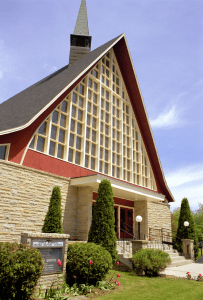 Welcome to the Grace Memorial Baptist Church, located in Fredericton, NB. We are a not-for-profit organization in Canada.
For more information about the church, please follow this link.
Grace Memorial has a mission— our reason for being—a mandate which has remained consistent since the church was first organized in 1845.
The mission of Grace Memorial is to lead and support people
at home and abroad in a growing relationship with Jesus Christ.
Our mission can be expressed in the acrostic:
Glorify God through worship
Reach the unchurched through witness
Accept new members through fellowship
Care for those in need through ministry
Equip members for ministry through discipleship
We value the Word of God, because of its capacity to transform our lives. We believe it is the highest source of written authority for God's plan for His people, revealing how to live out that plan, individually and corporately. We seek to keep our beliefs, practices and priorities anchored in clear biblical teaching.
With this in mind, we have developed our online educative resource to give English-language readers an opportunity to become better acquainted with the Bible and its message, as well as to apply its wisdom in their everyday life.